Premium Subscription @ Your School
Overview
We are excited to offer plagiarism checking and automated proofreading services to high schools and middle schools. This document provides information on the services we offer and how they are used by students and faculty.
Services Offered
Automated Proofreading + Plagiarism Checking
This is our flagship product designed for students to submit their writing assignment and receive feedback in real-time that includes grammar/spelling check, plagiarism detection, automated scoring, and writing feedback.
URL:
http://www.paperrater.com/free_paper_grader
Standalone Plagiarism Checker
The standalone checker accomplishes the same as the tool above, but it only checks plagiarism and is therefore much faster. If all you need to do is check the plagiarism of a document, then this is the tool for you.
URL:
http://www.paperrater.com/plagiarism_checker
Electronic submissions
This tool allows teachers to receive student submissions and our analyses electronically. All of this is accomplished without the need to manage any logins for the teacher or the students.
URL:
http://paperrater.com/page/electronic-submissions
No Logins
Simplicity is one of our key virtues at PaperRater and that is why we eschew logins whenever it is possible. Contrary to the path taken by our competitors, we have found that students can submit documents and teachers can even receive assignments electronically, all without the need for managing accounts or logging in. This is accomplished by giving students access to the Premium service through a special URL known as a "subdomain". For example, Greenville High School might be setup to access premium service through the following URL:
http://hs9.PaperRater.com/
In the example above, 'hs9' is the subdomain and 'PaperRater.com' is the domain. Students and faculty would simply use the special URL we provide them with to access the site and they would then receive premium benefits.
Premium vs Basic
Our basic service is used by thousands of individuals from hundreds of countries every single day of the year. As an educational institution, you now have access to a premium membership for your entire school. As a premium member, faculty and students receive these benefits:
Submit documents that are 4X longer than the basic length limit
More accurate plagiarism check
File upload
Premium-only modules
Faster processing
Pricing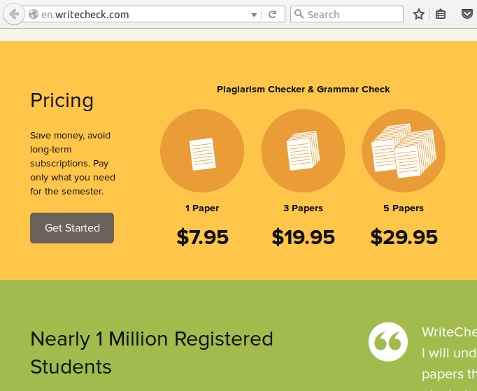 The screenshot from a competitor's website to the right is an example of just how much some companies are willing to charge for automated proofreading and plagiarism checking. Even compared to our individual premium service (which is much lower than competitors), a school with 150 students saves over $10,000 for the school year.