Teachers: Receive Student Submissions via Email
PaperRater offers the ability for teachers to receive students' submissions and analyses via email and view summary stats of submissions received. But why would you want to do this? Some teachers have students print out their analysis as a way to show that it is free of plagiarism and has been reviewed by our service. Now students can save paper and send you their analysis electronically. The analyses get sent to your email and you are also given a URL that provides summary statistics on all documents sent to that specific teacher code. Not to worry though, you do
not
provide your students with your email address nor do you have to signup/login to use this service. You simply generate a short code that you give to your students and this code is connected to your email address behind the scenes. And, as with our other services, this is also 100% FREE. Just follow these simple steps.
Quick Start
1. Generate Your Teacher Code
No signup necessary. Just enter in your email and an arbitrary class/assignment name on
this page
. You will then be given a short alphanumeric code.
2. Verify Your Email Address
You should receive an email with a verification link. Click on it. If you skip this step then your code will NOT work. Don't forget to click on the link sent to your email!
3. Tell Your Students
After a student submits her paper, she will find a form under the "E-Submission" tab on the right side of the page. The student will have the opportunity to enter in your teacher code and her name. Submitting that form will then allow you to receive the student's paper and our analysis of it. You may want to try this process out first with your own paper to make sure it works well for you, and so that you are completely aware of what you are asking of your students.
That's it! Simple, huh? Don't forget to visit our
educators page
if you are a teacher. For more in-depth documentation of the electronic submissions system continue reading below.
Documentation
Teacher Codes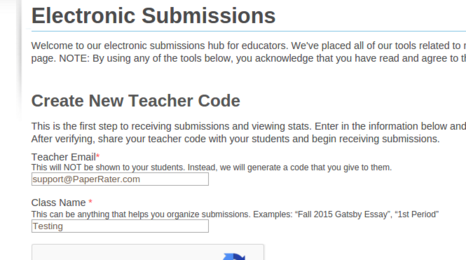 As discussed in the Quick Start guide above, generating a "teacher code" is the first step to accepting submissions. What we mean by "accepting submissions" is that you will receive a copy of the submission and our analysis via email, and you will also be given a URL for each code that you create. This URL allows you to view information about each submission sent to your code, and we will discuss this more in the appropriate section below. Click on the link below and fill out the form as shown in the screenshot to the right in order to create your first teacher code, or just follow along with this documentation.
http://www.PaperRater.com/teachers/esubs_home
Next, you will be sent an email with a verification link that you must click. If you do not receive this message, then you will need to contact support.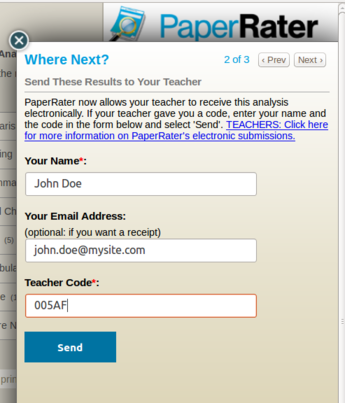 Finally, it is time to give the code to your students. Whether you tell them in class, send it to them via email, or post it on your webpage is up to you. You may create as many codes as you would like: one per class, per assignment, or one code for all students across all sections. Again, it's completely up to you. Just give them your teacher code and have them submit their papers to our automated proofreader:
http://www.PaperRater.com/free_paper_grader
As shown in the screenshot to the right, students will find a form in the "E-Submission" tab that allows them to enter in their name and the teacher code that you provide them with. They will also need to enter their email in order to receive a receipt. This step is described further below, but it is something that we recommend so that students can prove that they did indeed submit a document to the teacher code that they were given.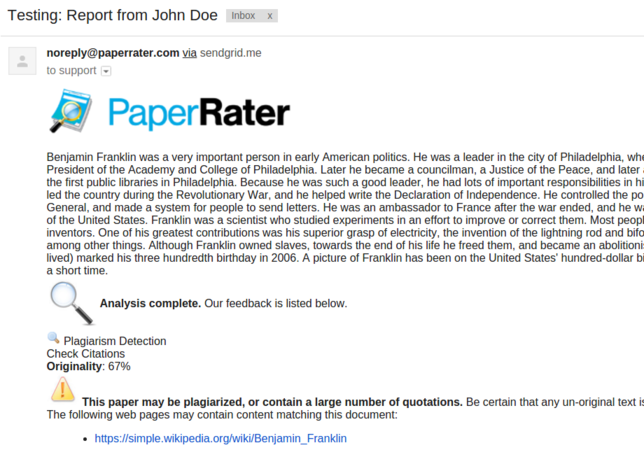 After students have made submissions, you will receive them along with our analyses via email, but you can also keep tabs through the special URL associated with each teacher code (see below).
Submission Tracking and Statistics
When your teacher code was first created, you received a verification email that also provided you with an "ESub Stats Url". This URL displays information about each submission that is made using the teacher code with which it is associated. If you lose this URL, you can fill out the form
here
and the link will be emailed to you. Below is a screenshot of the stats page for our code, and you are welcome to
view the full page
.

The actual submitted text and our analyses are emailed to the address associated with the given teacher code, but the stats page includes salient information from each submission in a table format that can also be downloaded as a CSV file. This has many potential use cases including tracking class averages, viewing progress from one assignment to the next, and comparing different sections of the same class.
Submission Receipt Verification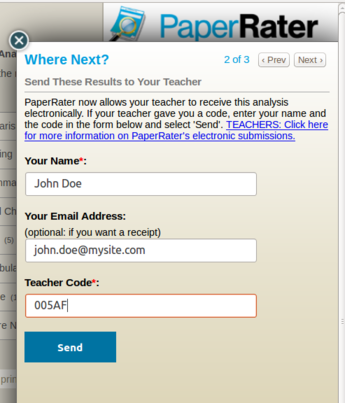 When the students enter in the teacher code, they also have the opportunity to provide their email address. This is optional, but it is recommended as it provides the student with a receipt which they can then send to their teacher, should there be a dispute as to whether or not "PaperRater ate their homework". A mock example will make this clear...
Mrs. Awsum asked her entire English class to submit their rough drafts to her through PaperRater using her teacher code (AWSUM5). As the due date arrives, Mrs. A scans through her email and notices that Joey did not submit his assignment. When she confronts him, Joey claims that he did submit the assignment. What happened to his assignment? Did it get blocked by Mrs. A's spam filter? Did PaperRater fail to send it? Is Joey lying? Fortunately, Mrs. A told all of her students to enter in their email address so that they receive a receipt. She then asks Joey to send her the receipt that he received from PaperRater. If he doesn't have one then the culpability falls upon him. But, Joey does have a receipt which he forwards to Mrs. Awsum. She copies it and pastes it into the
Verify Receipt tool
. The result is a confirmation that Joey did indeed submit a document to teacher code AWSUM6 on the due date. An example of a receipt successfully verified by the teacher is below: