What are subordinating conjunctions?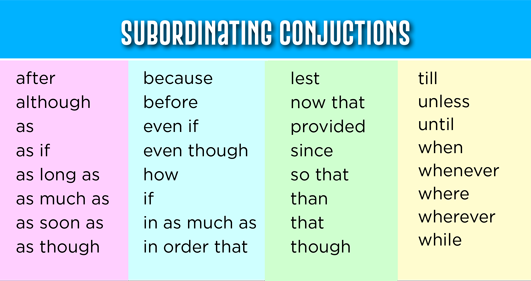 Good writing contains a mix of simple sentences and complex sentences. Complex sentences have two clauses, a main (independent) clause, and a subordinate (dependent) clause. A subordinating conjunction joins a subordinate clause to a main clause. The table below provides a list of some common subordinating conjunctions. The subordinate conjunction provides a transition between the two ideas of the complex sentence. This transition will indicate either a cause and effect relationship, or indicate the time or place. Let's look at a few examples:
When I met Susan, her eyes were red because she had been crying. (cause and effect)
The State Attorney was removed from the case after he decided not to prosecute the hacker. (time)
We searched the woods around the lake, where Adam would often walk when he was feeling blue. (place)
The subordinate conjunction also clearly indicates the importance of the main clause. The dependent clause is always introduced by the subordinate conjunction. Let's look at a few examples:
The gods thundered in the heavens, while the mortals below cowered in fear.
He will always be considered the as the town's bravest man, provided the truth never comes out.
So tight was her hold upon his arm, that he feared to detach himself lest he should hurt her.
---
Have you tried the FREE PaperRater automated proofreader yet? What are you waiting for?

---
Examples of use of the subordinating conjunction 'although'
Not that it is necessary for the artist to grasp the mind of his sitter, although that is no disadvantage.
It was a rather dingy night, although a fair number of stars were out.
Besides, although you suffer much, you do not seem to be in such agony as you were before.
The man with the torch complied, although not asked in the most polite terms.
This very much astonished the sailors, although, not one opposed it.
Although you say I do not like him, I assure you I shall be happy to see him.
But now we are alone, although it is immaterial to me, where are we going?''
Andrea made no resistance, although he protested against it.
We found the brass box there, although its contents had been destroyed.
He understood the language of Balnibarbi, although it was different from that of this island.
Kouandété was pardoned, although the former council was not.
in a deep depression, although they don't know its him.
He is an atheist, although reared as a Catholic.
Examples of use of the subordinating conjunction 'unless'
You know how I detest it, unless I am particularly acquainted with my partner.
What sister would think herself at liberty to do it, unless there were something very objectionable?
Unless where they like women of fortune, which I think they very often do.
This never costs anything to speak of, unless you plant more than enough.
This is better than walking; unless one is in a hurry.
Unless you are blind, or have never been outside the harbor, you must know.
Doubtless, unless he is at work, which is the same as if he were out.
Oh, dear, no, your excellency, unless you intend to commit suicide.
Unless they are quite new, no two of them write exactly alike.
I promise you that I shall not use it unless it is absolutely needed.
I am sure you have no occasion to be so, ma'am, unless you like.
We never should have heard of the letter at all, I believe, unless I had asked for it myself.
Unless this is a clever forgery to put us on the wrong scent.
It's no fun,' said Steerforth, ' unless we take them by surprise.
We had no feeling of security unless our doors were locked.
Shan't see ye again very soon, I guess; unless it's before the Grand Jury.
For unless you own the whale, you are but a provincial and sentimentalist in Truth.
Unless otherwise specified, the songs below were sung in Cantonese.
Well, unless you are a person without a conscience, this is impossible.
All records were set in finals unless noted otherwise.
All songs by Nick Lowe unless otherwise noted.
Examples of use of the subordinating conjunction 'provided'
I will help you to kidnap him, provided there is no violence.
I agree to keep violence to a minimum, provided he cooperates with us.
Examples of use of the subordinating conjunction 'whenever'
Follies and nonsense, whims and inconsistencies, do divert me, I own, and I laugh at them wheneverI can.
She watched him whenever they were at Rosings, and whenever he came to Hunsford; but without much success.
They look upon it as quite their own, I dare say, whenever that happens.
Whenever, as a result of effort or force, an object is moved, work is done.
All the master can do is to stand by and encourage whenever he sees evidence of the real thing.
But it is largely used now whenever a strong impression of light is desired.
Whenever the clock struck, it seemed as if years had gone by since I had heard it last.
But I did it partly because I saw, that along at first, whenever I reached for the bottle, he thought I was going to give him some.
Give me a call whenever you need any I mean, when you're going by, sometime.
One saw them scampering sidewise in every direction whenever they heard a disturbing noise.
Oh, yes; and they may have the fact attested whenever they please.
`There,'said La Carconte, as she placed a bottle of wine on the table,`supper is ready whenever you are.'
Yes, we do; you see them whenever God pleases to allow them to assume a material form.
So, my dear viscount, whenever you wish to be regaled with music come and sup with me.
Whenever the law has attempted to regulate the wages of workmen, it has always been rather to lower them than to raise them.
Whenever the legislature attempts to regulate the differences between masters and their workmen, its counsellors are always the masters.
I thought I was a goner, for whenever anybody was after anybody I judged it was ME--or maybe Jim.
WheneverI fell into a thoughtful state, this subject was sure to present itself, and all my uneasiness was sure to be redoubled.
But I warn you all that a time 's coming when you're going to feel sick whenever you think of this day.
At length, Dora regularly muffled him in a towel and shut him up there, whenever my aunt was reported at the door.
I said that I should hope to hear, whenever she had an opportunity of writing.
You must be very happy, living in this wood, and being glad whenever you like!
Whenever the horse stopped (which it did very often), he fell off in front; and whenever it went on again (which it generally did rather suddenly), he fell off behind.
Whales are scarce as hen's teeth whenever thou art up here.
Payment of substantial fees is required whenever a title is inherited.
Warmth has been changed to a commodity or utility that can be delivered wherever and whenever it is required.
Whenever a process "A" is blocked for some resource, a probe message is sent to all processes "A" may depend on.
Examples of use of the subordinating conjunction 'lest'
For some minutes after he had emerged into the outer presence of Saint Antoine, the husband and wife remained exactly as he had left them, lest he should come back.
Darcy only smiled; and the general pause which ensued made Elizabeth tremble lest her mother should be exposing herself again.
I did not know that you intended to walk,''said Miss Bingley, in some confusion, lest they had been overheard.
The first half hour was spent in piling up the fire, lest she should suffer from the change of room; and she removed at his desire to the other side of the fireplace, that she might be further from the door.
Her mother's thoughts she plainly saw were bent the same way, and she determined not to venture near her, lest she might hear too much.
She looked at her father to entreat his interference, lest Mary should be singing all night.
The wax should never be picked out with pin or sharp object except by a physician, lest injury be done to the tympanic membrane.
Who that has heard a strain of music feared then lest he should speak extravagantly any more forever?
But one can not be too much on his guard in such a case, lest his action be biased by obstinacy or an undue regard for the opinions of men.
He dreaded to show himself in the street, lest he should find Stephen lying in wait for him at the corner.
Dearest Valentine, confess that what I say is true, lest I be tempted to call you unjust.
Morrel, horrified, pressed his heart, lest its beatings should be heard.
I do not willingly enter into a debate with an artist like you, who fears to enter my study lest she should imbibe anti poetic impressions and sensations.
Take care, Morrel, lest I call you ungrateful.
Often I sat up in my room reading the greatest part of the night, when the book was borrowed in the evening and to be returned early in the morning, lest it should be missed.
The affected anxiety of the lawgiver, lest they should employ an improper person, is evidently as impertinent as it is oppressive.
This free competition, too, obliges all bankers to be more liberal in their dealings with their customers, lest their rivals should carry them away.
She has been greatly annoyed in having so much publicity, lest it might seem a breach of confidence, or be an injury to Williams.
---
Examples of use of the subordinating conjunction 'lest'
I have mentioned this lest anybody should mind what Sancho said about Dulcinea's winnowing or sifting; for, as they changed her to me, it is no wonder if they changed her to him. Sancho took up a position in the rear of all without dismounting from Dapple, whom he dared not desert lest some mischief should befall him.
Come Death, so subtly veiled that I Thy coming know not, how or when, lest it should give me life again To find how sweet it is to die.
All this I told him, in dread lest my beauty and not his own covetousness should influence him.
But this must be done with the most severe scrutiny, lest we depart from truth.
I thanked her, without making any demonstration of joy, lest it should induce her to withdraw her assent.
Janet looked a little surprised to see me lying stiffly on the sofa (I was afraid to move lest it should be displeasing to my aunt), but went on her errand.
Yet I dared not express my anxiety, lest it should give her offence.
She wrote me dreadful letters when she heard that I was about to be married, and, to tell the truth, the reason why I had the marriage celebrated so quietly was that I feared lest there might be a scandal in the church.
My dread was lest he should turn his head, and see her too.
She didn't tell Em'ly what she come out fur, lest her 'art should fail, and she should think of hiding of herself.
I'm only joking! lest my aunt should think she really meant it.
Give not thyself up, then, to fire, lest it invert thee, deaden thee; as for the time it did me.
The grace of Baptism had been received, and they had been anointed with the sacred oil, and had participated in the body of the Lord, they might properly be forced to hold to the faith which they had accepted perforce, lest the name of the Lord be blasphemed, and lest they hold in contempt and consider vile the faith they had joined.
At the time the export of it was forbidden, lest it help their rivals.
Examples of use of the subordinating conjunction 'lest'
The snow was on the ground, and they traveled all night, lest others should follow them.
Mudjikewis stepped to and fro, uneasy lest he should not get the one he liked.
He reminded me of it, telling me if I did not pay for you, he would be paid by M. Morrel; and so, you see, lest he might do you an injury''``Well?''
Villefort, who did not choose to reveal the whole secret, lest another should reap all the benefit of the disclosure, had yet communicated enough to cause him the greatest uneasiness.
His fear was lest the governor, touched with pity, might order him to be removed to better quarters, and thus separate him from his young companion.
Then he descended with cautious and slow step, for he dreaded lest an accident similar to that he had so adroitly feigned should happen in reality.
This would have been a favorable occasion to secure his dinner; but Dantes feared lest the report of his gun should attract attention.
No, lest on the first demonstration I make in favor of Mehemet Ali, the Sultan send me the bowstring, and make my secretaries strangle me.
Albert remarked this, expressing his fears lest, at the outset, the Parisian mode of life should displease the traveller in the most essential point.
Our manufacturers are unwilling, it seems, that even this restricted importation should be encouraged, and are afraid lest some part of these goods should be stolen out of the warehouse, and thus come into competition with their own.
The term, therefore, allowed, for the indemnification of the landlord, ought not to be a great deal longer than what was necessary for that purpose, lest the remoteness of the interest should discourage too much this attention.
But if you have occasion to take part in them, let not your attention be relaxed for a moment, lest you slip after all into evil ways.
All that Camilla could do was to entreat Leonela to say nothing about her doings to him whom she called her lover, and to conduct her own affairs secretly lest they should come to the knowledge of Anselmo or of Lothario.
It is true he pulled it gently lest Rocinante should move, but try as he might to seat himself in the saddle, he had nothing for it but to stand upright or pull his hand off.
The curate charged his niece to be very careful to make her uncle comfortable and to keep a watch over him lest he should make his escape from them again, telling her what they had been obliged to do to bring him home.
They were, in short, kept in anxiety and dread lest their uncle and master should give them the slip the moment he found himself somewhat better, and as they feared so it fell out.
Cambridge English Grammar
Examples of use of a subordinating conjunction 'unless'
These aren't considered dress shoes unless they have a heel.
Unless otherwise indicated, all race results are taken from MrSpeedy.com.
Unless stated otherwise, the source for all entries is the Online version.
Unless otherwise noted, the person died after working for Hillary.
Men should not take ibandronate unless they are participating in clinical trials.
They contact Jesse and threaten to kill Cassandra unless he cooperates with them.
All songs written by John Lenon unless otherwise noted.
Fortunately, this snake does not bite humans unless it feels threatened.
Christmas will be ruined unless Dr. Claw is stopped.
He warned that she should never visit him unless he went to her quarter on his own.
Data source is "emporis.com", unless otherwise noted.
The floodplains of these were only locally tapped unless the development of the KRP.
Application list from Lumsden unless otherwise noted.
Unless otherwise noted, drives are 5¼-inch format.
Resident of Tokyo unless otherwise noted.
No, you would mistrust it was him unless he revealed himself.
The Chicago Manual of Style
Example sentences using a subordinate conjunction 'whenever'
Ojeda seems to be on the spot whenever such a revelation occurs.
He once wrote to a colleague that "The sight of a feather in a peacock's tail, whenever I gaze at it, makes me sick!"
These cards should go to the foundations whenever they become available for play.
They were redistributed whenever a readjustment took place at the federal level.
The reunification of Soda stereo was a mandatory topic for journalists whenever faced with a former member.
Whenever Brann have entered European competitions, home games have had to be played with a reduced capacity.
In general, they are expected to occur whenever there is a short-distance regulator.
His teacher claimed that Hernandez trained "whenever he could afford it" as he wasn't always financially stable.
Graphene fragments are produced (along with other debris) whenever graphite is abraded, such as when drawing with a pencil.
Whenever this happened, he usually received a call shortly thereafter from an irritated Kubrick.
Thenceforth, whenever drought prevailed, the same doctrine was practised in the park, and never in vain.
He instructed his Shingon priests to pray to Zennyo whenever Japan suffered from droughts.
Minimum lighting was used, mainly from practicals, and whenever possible only sunlight.
As a result, he breaks out in hives whenever he comes into contact with a female.
Also, there was a tendency for oscillation whenever there was a speed change.
Reunification with the child's family is encouraged whenever possible.
She capriciously revokes these privileges whenever a patient displeases her.
The group played in small clubs whenever they could for about a year.
He likes whenever possible to visit countries during their elections.
She is known to say "Golly", whenever she's surprised by something.
As a spell it is cast by a Death Eater whenever he or she has murdered someone.
---
Other articles you may find helpful
How do I use an appositive phrase?
Should I use 'its' or 'it's'?